After a promising first quarter that saw NBA games missed due to injury drop by 12% when compared to the previous season, the 2015-16 season continues to be marked by an overall drop in injuries. After 41 games played the 30 NBA teams have combined to lose 1,968 games as the result of injury, 282 games less than last season's midseason total and 351 less than the 2013-14 season.
Significant turnarounds for two of the league's most storied franchises has helped as the Los Angeles Lakers and New York Knicks find themselves in a much healthier position this season. Last year the Lakers endured injury after injury including the career-ending nerve issues for veteran point guard Steve Nash and season-ending injuries to Kobe Bryant and Xavier Henry. Now with a younger roster and a renewed commitment to health, the Lakers sit third in the league with just 19 games missed.
In New York, the improved health of Carmelo Anthony has been a major factor for the Knicks' turnaround. After limping through the early months of the 2014-15 season, Anthony underwent a patellar tendon debridement procedure that appears to have gotten him back on track. The offseason pieces brought in by the organization, including Robin Lopez, Kevin Seraphin, and Arron Afflalo, have been reliable additions that have done an admirable job of staying out of the training room. This is dramatic departure from New York's previous track record of overspending on medically risky players including Amar'e Stoudemire, Eddy Curry, and others. In fact, the Knicks' overall numbers would be even better if not for the gunshot wound sustained by Cleanthony Early in his unfortunate late night robbery.
The Thunder medical team, led by head athletic trainer Joe Sharpe, is also in the middle of a bounce back season and leads the league in fewest games missed to injury. Just two years after missing 26 total games to injury, Oklahoma City endured an injury-riddled 2014-15 season that ended with 224 total games lost. Kevin Durant and his Jones fracture was the primary culprit behind the elevated total but Russell Westbrook and Serge Ibaka also contributed to the problem missing a combined 33 games. However the Thunder lost just one game to injury during the second quarter of this season. It will be difficult to match their 2014-15 pace given the recent injuries to Steven Adams and Andre Roberson, but it's nice to see Oklahoma City put together an extended run of good health after last season.
Not every team has avoided the injury bug as the Washington Wizards have been hit hard by injuries over the past 20 games. Prolonged absences from veterans Drew Gooden, Kris Humphries, and Nene decimated the frontcourt while starting shooting guard Bradley Beal missed 16 games with the fourth reoccurrence of his stress-related fibula injury. While team leader John Wall has yet to miss a game this season, he too is ailing and playing through an assortment of injuries including a knee sprain and painful quadriceps contusion.
Joel Embiid's foot injury has kept the Sixers' injury total high and the Pelicans and Nuggets are both feeling the impact of players already lost for the season. In New Orleans, forward Quincy Pondexter is expected to miss the remainder of the year after undergoing a second surgery to address a cartilage injury in his left knee while Nuggets forward Wilson Chandler saw his season prematurely end in the preseason after a hip labrum tear.
A surprise team in the bottom 10 for games lost to injury is the reigning champion Golden State Warriors. Despite winning at a record pace, the team has lost 87 games to injury so far, 16 more than they missed all last season. Rookie Kevon Looney made up a substantial portion of the total as he recovered from offseason hip surgery but Harrison Barnes also sat for 16 games with an ankle sprain and both Steph Curry and Klay Thompson missed a pair of games with injuries of their own. In fact, All-Star snub Draymond Green is the only Golden State starter to not miss at least two games due to injury.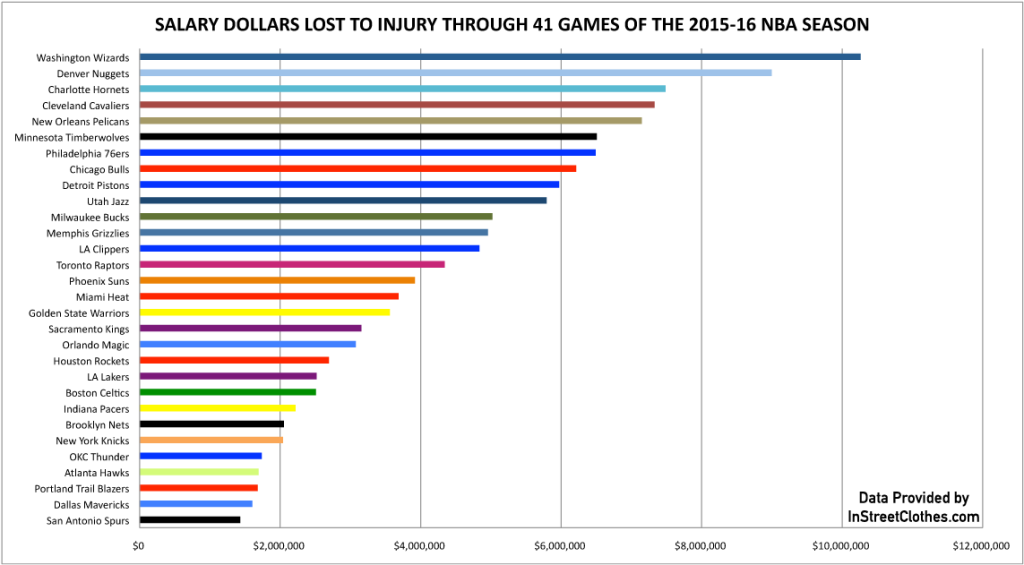 League wide a major reason for the drop in injury totals appears to be the decline in bone-related injuries. 272 games of this year's midseason total can be attributed to fractures or bone contusions. While that total may seem high, it's a stark contrast from the previous two seasons when the league lost 589 (2013-14) and 489 (2014-15) games to bone issues. Notable players to miss time over the past two seasons with bone-related problems include the aforementioned Durant, Embiid, and Beal as well as Paul George, Julius Randle, and Kobe Bryant. Nutrition is a widely speculated contributor to the problem and perhaps a renewed commitment to addressing players' diets is making an impact on the reduction in bone injuries.
As mentioned in the first quarter report, it is too early to tell if league-wide schedule changes and other extrinsic factors are a reason for the decline in games lost to injury. However with the drop in games lost carrying over into the second half of the season, there is at last some reason for optimism.